This post is part of a series on my bike build:
Frameset and forks (this post)
---
Choosing a frame
So to kick things off I'm going to need a frame. It sounds obvious but it's worth stating – most components attach to the frame and so it's pretty important compatibility-wise to decide on the frame first before you can even start narrowing down component choices.
After doing a bit of research on Pinkbike classifieds of other peoples' builds, I found myself leaning towards what are dubbed "aggressive" hardtails. This means that the top tube (TT) has a pretty steep angle rather than being near horizontal and a "slack" headtube angle (angle HT), allowing for longer travel forks.
Wheel-size-wise, last time I owned a mountain bike, 26" was the only size you could get. Since then 29" (dubbed "29ers") appear to have been the most popular, but now 27.5" (aka 650b) is also a thing. Allegedly, 27.5" is meant to be the Goldilocks size – not too big, not too small, but just right.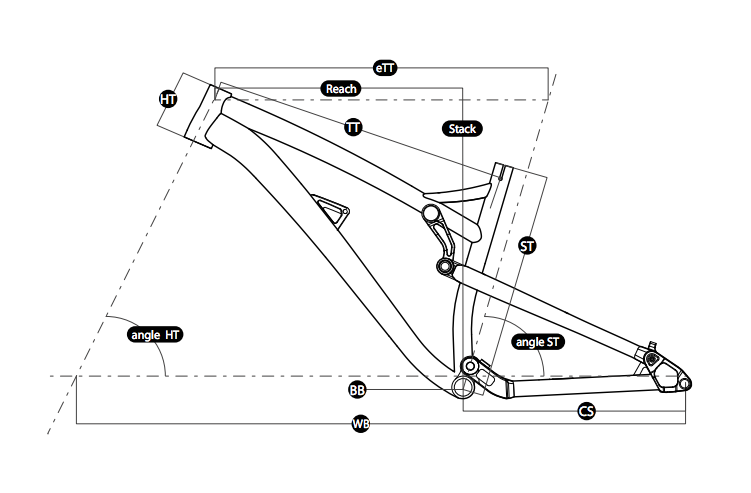 Above: Dartmoor Bikes' handy frame geometry diagram (source).
All in all this means I'll (hopefully) end up with a versatile bike that'll cope with some pretty aggressive riding – drop offs, jumps etc., but I'll be able to hike up the seatpost, flip the fork lockout on and get a pretty efficient climbing/smooth trail riding position.
I was surprised to see the return of steel as a frame material since my last exposure to the bike industry about ten years ago. For example in this incredibly well priced On One frame. It turns out high-grade steel frames have a few things going for them:
they've got a nicer "flex" to them than their stiffer aluminium counterparts which improves ride quality (especially in a hardtail)
good steel is strong, so you can have quite thin tubing to keep the weight down
However at my end of the budget (yes, £1k is far from high-end in mountain bike money) it seems there's usually about .5kg difference in aluminium frames' favour and since I'm not going to be splashing the cash on top-end kit elsewhere on the bike, I think it makes sense to bag the weight saving here.
Headsets
My biggest blindspot in terms of knowledge is regarding headsets – the bearings that sit between the forks and the frame, and the mechanism that holds it all together. This Park Tool article helped thoroughly demystify what is an incredibly confusing set of terminologies and competing standards.
I found myself leaning towards IS (integrated system) which seems to be an emerging modern standard, and this ultimately had a big sway on the frame I chose. IS comprises of sealed bearing cartridges that slot directly into machined races inside the frame's headtube – meaning no special are tools required, and no labour costs at the local bike shop to "press" the headset (as with traditional methods).
My choice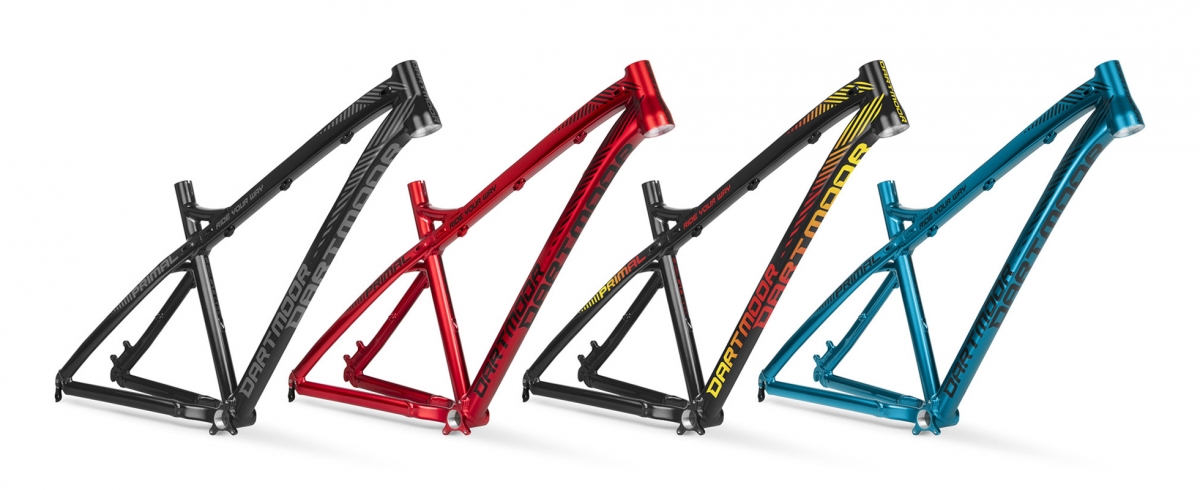 Above: Dartmoor Primal 27.5 frame colours.
In the end I plucked for the Dartmoor Primal 27.5 (19") in black. I'm not a huge fan of the graphics but aside from that, this relatively new Polish brand (I know, right, sounds like they're from Devon 😂 ) have a decent reputation, having produced some popular dirt jump and full-suss bikes. The UK importer, Slam69 also seem pretty on it, and were very helpful when I rang up with some questions about fork compatibility.
What the frame itself has going for it is a strong but lightweight aluminium construction, a modest price (£210) and an integrated headset (IS) system. This means I should be able to fit (and later, service) my headset without any specialist tools. Win! With the frame, I purchased the Dartmoor integrated headset to ensure compatibility.
Below: My actual frame at home in the stand. I'm pleased that the graphics are slightly muted in real life.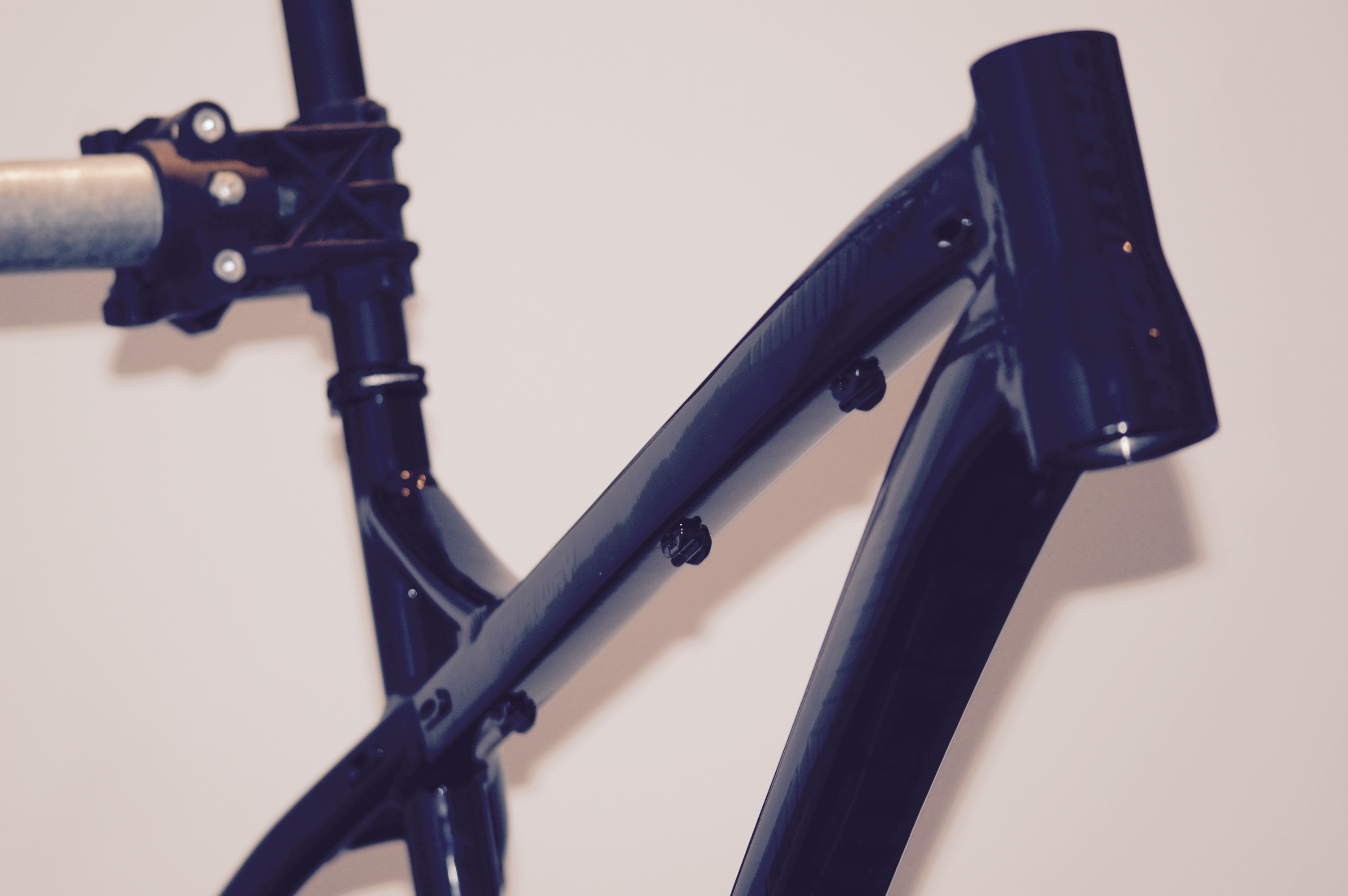 Choosing a fork
Frustratingly, after having plucked for (and ordered) a frame, I found myself struggling to find forks within a reasonable budget. It turns out that you can get a very decent 100mm-120mm fork for < £250. The Primal frame says it's suitable for 130mm-160mm travel forks, and 140mm is what they use to reference all of the other geometry. Once you reach 130mm travel, there's a pretty steep step in fork prices.
For me there were basically two products in the running, both heavily discounted as they're "last year's":
2016 RockShox Sektor RL Solo 130/140mm @ £280 £400
2016 Manitou Minute Pro 140mm @ £260 £520
I went for the Manitou. Both forks had good reviews, so I went for the one with the best reduction in price. It's an air fork with adjustable rebound and a incremental compression lockout located on the fork crown (no remote). It'll be interesting to see what the Manitous look like once they're mounted, as unlike most forks, their arch is located behind the crown (rather than in front).
Below: My Manitou Minute Pro forks in the flesh. These things are beautiful.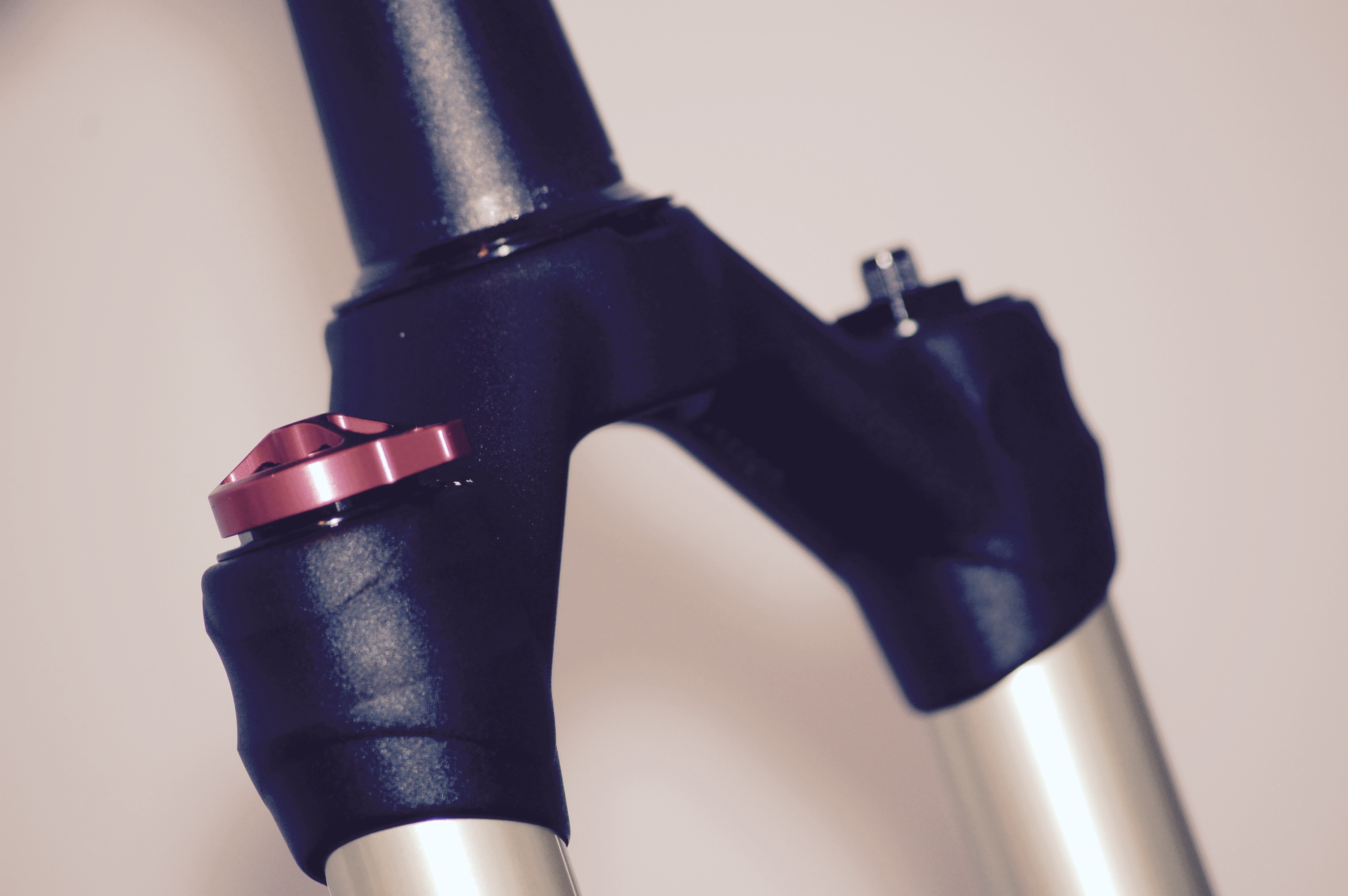 Remaining frameset components
In order to get the frame up in the workstand, a couple more components were required – a seatpost and seatclamp. These parts are easy to upgrade later if I want something lighter, or with more features (dropper post, quick release etc.) but for now I just went for simplicity and kept the cost down.
It was at this stage I noticed that, aside from the red flash on my forks, everything I'd bought so far was black. Apparently I'm building a stealth bike 🤔 .
Parts summary
Here are my purchases so far:
| | |
| --- | --- |
| Component | Price |
| Dartmoor Primal frame 27.5 (19") | £210 |
| Dartmoor headset | £40 |
| Manitou Minute Pro forks | £260 |
| Nukeproof seatclamp | £10 |
| Pro Koryak setapost | £10 |
Stay tuned for more when the real assembly starts!